About
My work focuses on the interconnectivity within the universe and decay as a means of transformation. My studio practice begins with long walks as I closely observe my surroundings and collect materials that jump out to me, for example, dead birds, rusted objects, or piles of grass clippings.
Researching these collected materials both in their physical capabilities as well as their art historical and scientific references later inform how I work with them in the studio. I utilize artistic intervention such as photography, video, installation, and works on paper to transform the collected materials into art.
As my materials and methods change, I am always working towards discovery and understanding of the world we inhabit through the lens of interconnectivity.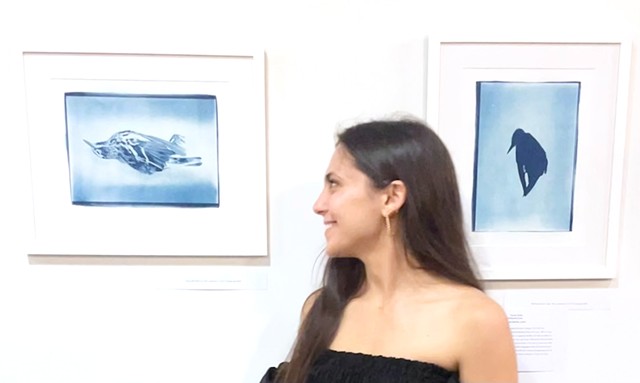 Using artistic methods such as photography, video, and installation, Natalia Petkov transforms scavenged materials, such as grass clippings, waste or dug up trash from the ocean, into art. 
Originally from New Jersey, Petkov received her BFA from Guilford College in Greensboro North Carolina in 2016 and her MFA from Pratt Institute in Brooklyn New York in 2021. In 2023, she earned the Award for Photography, juried by David Max Horowitz, assistant curator at The Guggenheim. She is also a dual recipient of the Stutzman Foundation Fine Arts Award in 2020 and 2021. She has been featured in the ArtAscent International Art and Literature Journal as well as in the Irish Arts Review. Petkov has exhibited at the Elliott Museum in Florida, the Limner Gallery in New York, the Greenhill in North Carolina, and the Burren College of Art in Ireland, among others. Natalia Petkov continues to live and work in New York City.