About
My work focuses on the interconnectivity within the universe and decay as a means of transformation. My studio practice begins with long walks as I closely observe my surroundings and collect materials that jump out to me. For example, in November 2021, I walked along the shoreline of Jamaica Bay in Queens, New York digging up rusted objects that were buried under the sand after years of erosion from living in the ocean. When placed on a scanner bed and arranged with rust and algae particles, the images captured abstractly resemble images from space. The man made objects once created for our consumption and discarded into the ocean are now transformed into images resembling the cyclical nature of the universe, nothing is created or destroyed, only transformed.
As my materials and methods change from each body of work, I am always working towards discovery and understanding of the world we inhabit through the lens of interconnectivity.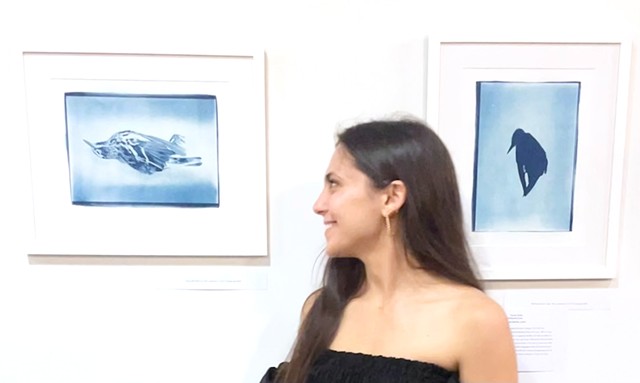 Natalia Petkov is a multimedia artist based in New York City. Originally from New Jersey, Petkov received her BFA from Guilford College in Greensboro North Carolina in 2016 and her MFA from Pratt Institute in Brooklyn New York in 2021. Petkov is a dual recipient of the Stutzman Foundation Fine Arts Award in 2020 and 2021. She has been featured in the ArtAscent International Art and Literature Journal as well as in the Irish Arts Review. Petkov has exhibited at the Elliott Museum in Florida, the Limner Gallery in New York, the Greenhill in North Carolina, and the Burren College of Art in Ireland, among others. Natalia Petkov continues to live and work in New York City exploring themes such as decay and transformations of life through a multimedia practice spanning across video, photography, works on paper, installation, and sculpture.